Swedish Community and Advocacy for Sex Workers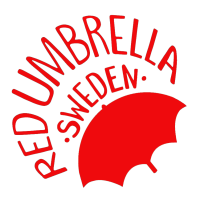 Red Umbrella Sweden is a Swedish organisation advocating for the rights, safety, justice and self determination of sex workers.


All our members are current or former sex workers with lived experience of doing sex work.


Sex workers' includes anyone who trades sexual services for material gain of any kind. This means cam workers, strippers, street based sex workers, erotic massage workers, brothel workers, full service workers, porn actors, content creators, etc.
Our members run a thriving community where sex workers can get peer-support, take part in meet-ups and workshops, and organize together for rights. Members can get peer support and advice 24/7 through our very active online forum.

We believe that breaking the isolation and uniting Swedish sex workers is key to a strong sex worker movement and a starting point for ensuring more sex workers' voices are heard in the Swedish debate.
In our advocacy we focus on raising awareness of sex workers' situation and of the negative impact of the Swedish Model. The Swedish Model endangers, isolates and infantilizes sex workers. We question the narrative spread by the Swedish government that this is something positive. Our voices are silenced and excluded from involvement in the debate of policy making on issues of sex work and sex workers' rights and needs.
We also want to draw attention to the two tier system the Swedish model has created where sex workers who are Swedish nationals, at least in theory, have the right to financial support, health and mental health care, social services and various ways to exit the sex industry. Migrant and mobile sex workers, on the other hand, are excluded from all of this. Migrant sex workers are also routinely equated with victims of trafficking and targeted by police as well as robbed of agency in the public debate. We advocate for a full decriminalisation of sex work; including sex workers, clients, third parties, families, partners and friend.
The full decriminalisation 
of sex work
The right to speak for ourselves
Sex workers' rights to family and privacy
Workers' rights
Migrant's and BIPoC's rights
LGBTQIA rights
Feminism that includes all women
The rights of differently abled people
The rights of people who use drugs
The rights of people living with HIV